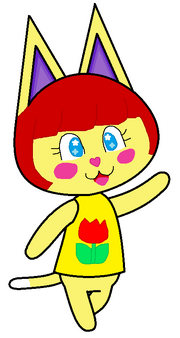 Toborr (
すみこ
Sumiko)
is a
peppy
cat
villager in the Animal Crossing series.
Appearance
Edit
Toborr is a bright yellow cat with red hair, sparkly bright blue eyes, a bright pink heart shaped nose and bright pink blush on her cheeks. The inside of her ears are purple and the tip of her tail is white. She wears a tulip shirt. As a peppy villager, she will over-react of questions she will ask. She will be along with the normal, lazy, jock, and other peppy villagers.
Toborr's house has a pastel dot wallpaper, a dotted flooring, but with some polka dot furnitures and her dice stereo plays "K.K. Jazz."
Information
Edit
Name: Toborr
Gender: Female
Personality: Peppy
Species: Cat
Star Sign: Taurus
Birthday: May 5th
Initial Clothing: Tulip Shirt
Initial Phrase: "sassy"
Picture Quote: "Always look on the bright side."
Coffee: Blue Mountain, Regular milk, 2 spoonfuls of sugar
Appearances: Animal Crossing: City Folk, Animal Crossing: New Leaf
Favorite Song: K.K. Jazz
Home request: "A fancy, sweet bake shoppe"
Regional Names:
French: Trina
Spanish: Brianna
Italian: Lynetta
German: Brenda
April Fools' Day
Edit
On April Fools' Day, Toborr might ask the player for personal information. Toborr's dream job is to be a Pastry chef. Their special talent is Memorizing stuff. In terms of siblings, she is the eldest of three. Their birthday is on May 5th.
Halloween
Edit
On Halloween, Toborr is scared by wolves.
In New Leaf
Edit
Biography
Siblings
Eldest of three
Skill
Memorizing stuff
Goal
Pastry chef
Fear
Werewolf Hood
Favorites
Clothing
Cute
Rock 'n' Roll
Color
Yellow
Coffee
Type
Blue Mountain
Milk
The regular amount
Sugar
Two spoonfuls

Ideal Gifts for Toborr – Yellow Cute Items

| Name | Price | Available From |
| --- | --- | --- |
Card profiles
Edit
Happy Home Designer amiibo CardEdit
Animal Crossing amiibo card

#467 Toborr

| | |
| --- | --- |
| Type: | Cat |
| Star sign: | Taurus |
| Birthday: | May 5th |
| Dice value: | 3 |
| Hand sign: | Scissors |

167px